Domestik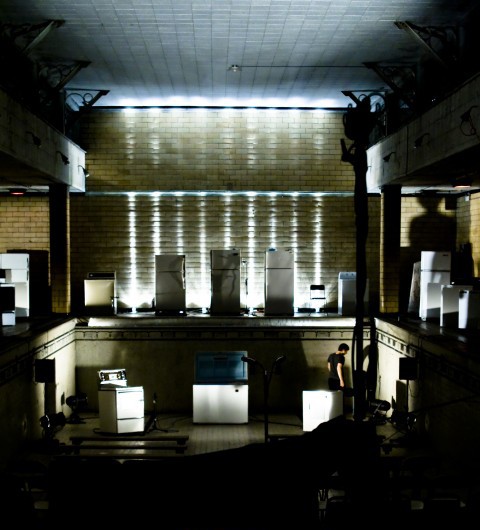 © Etienne Tremblay
Domestik is a concerto for home appliances. Comprised of 18 refrigerators, dishwashers, washers, dryers, and other machines, this heavyweight orchestra pays tribute to the sounds of the unknown symphony in our homes.
The piece takes over the Bain Saint-Michel to literally plunge the listener into a surround‑sound performance amplified by 12 speakers. Accompanied by viola da gamba and voice, each machine is equipped with microphones that reveal the range of noises that inhabit them, from the quietest clicks and hums to the most monstrous drones.
Presented at the Bain Saint-Michel, Montreal, March 26-29, 2009.
Created in 2009
Performers  –  Caroline Laurin-Beaucage, Pierre-Yves Martel (viol de gambe),
Martin Messier, Annie-Claude Navert (chant) and Jacques Poulin-Denis
Prelude  –  Guillaume Brunet, Delphine Measroch and Félix-Antoine Morin
Created by  –  Jacques Poulin-Denis
Composition  –  Martin Messier and Jacques Poulin-Denis
Programming  –  Martin Messier
Lighting  –  Nicolas Descoteaux and Marc Tetreault
Produced by  –  Ekumen
Acknowledgements
Gilles Poulin-Denis, Système Kangourou, Urban 9, Olivier Girouard, Ameublement Laurier, Eddie Rodgers, Marie-Eve Pageau, Pierre Chamberlan, Emmanuelle B. Beaudoin.
Partners
Emploi Québec, La ville de Montréal, Balzac Électroménagers, Conservatoire de Montréal, Brasserie Dieu du Ciel, Studio La Track, Perte de Signal.